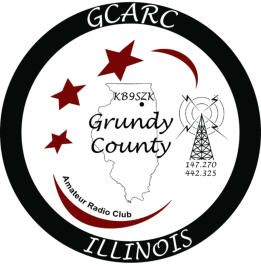 Grundy County Amateur Radio Club
KB9SZK
Members of the Grundy County Amateur
Radio Club are
all licensed amateur radio
operators, with differing levels of
experience and expertise. We come
together to advance the hobby/skill of
amateur radio, encourage each other, learn
from each other, and, in general, just have
fun. We also
work closely with the Grundy
County Emergency Management Agency
during times of inclement weather, local
disasters, and community events.
GCARC
We hold monthly meetings on the first
Tuesday of each month at 7:00 PM. Our
meetings are held at the Grundy County
Administration building located at 1320
Union St., Morris, IL. Park in the rear off
School St. and enter door number 7.
Meetings
We host a weekly 2 meter net each Monday
at 7:00 PM on the KB9SZK 2 meter repeater
147.270 with a PL tone of 107.2. All are
welcome to join the net, you do not have to
be a GCARC member to participate.
2 Meter Net



To become a member, please send an email
with your callsign to
dues@grundyarc.org.
Dues are $20 annually and we offer payment
by PayPal or check. Our Treasurer will
respond with the differant payment options
we have to offer.
Membership

The Grundy County Amateur Radio Club
will soon lose access to the 300-foot tower
located three miles south of Morris which
supports our 2 Meter Repeater station on
147.270 MHz. We're currently raising
funds to relocate the 147.270 MHz
Repeater and continue its long serving
tradition of providing communications to
the area.

We're hosting a Health and Wellness Net
every day at 16:00 hrs on the KB9SZK
2 meter repeater 147.270 with a PL tone of
107.2. This net was started by one of our
members Jeff KD9APD to help area hams to
deal with this pandemic. All are welcome to
join the net, you do not have to be a GCARC
member to participate.
1600 hrs Health and
Wellness Net